At a glance
Expert's Rating
Pros
4K resolution
Up to 160Hz maximum refresh rate
Decent ergonomic adjustment options
HDMI 2.1
Cons
High power consumption
Pricey
Our Verdict
The LG Ultragear 27GP950 is an incredible gaming monitor that, with its 4K resolution and speedy 144Hz refresh rate, is particularly appealing to gamers. It also supports both FreeSync and G-Sync so you can get the most out of it with any GPU. The addition of HDMI 2.1 mean that you can also use this monitor for the latest-gen consoles as well. It's pricey, but if you can take advantage of the rich feature set, you'll be rewarded with a great versatile display.
Price When Reviewed
899.99
Best Prices Today: LG Ultragear 27GP950
Thanks to its fast panel and frame rates of up to 160 hertz, the LG Ultragear 27GP950 27-inch display cuts a fine figure in fast-reacting games, such as shooters and racing simulations. Ergonomic adjustment options and easy handling round out the impressive overall package. However, LG is asking a hefty price of $799 to enjoy those features.
Note: This review is part of our ongoing roundup of the best gaming monitors. Go there to learn more about the competition, what to look for in a gaming monitor, and buying recommendations.
LG Ultragear 27GP950: The specs
The LG Ultragear 27GP950 gaming monitor is based on an in-house Nano IPS panel with a fast response time of 1 millisecond and a resolution of 3840×2160 pixels. The 27-inch screen also achieves a maximum frame rate of 144 hertz (or up to 160Hz when overclocked). Additionally, it comes with the welcome addition of HDMI 2.1 compatibility.
| | |
| --- | --- |
| Display size | 27-inch |
| Native resolution | 3840×2160 |
| Panel type | Nano IPS / 16:9 |
| Refresh rate | 144Hz |
| Adaptive sync | Compatible with FreeSync and G-Sync |
| Ports | 1 DisplayPort, 2 HDMI, 2 USB, 1 analog audio jack |
| Stand adjustment | Height, tilt, swivel |
| VESA mount | Yes, 100x100mm |
| Speakers | No |
| HDR | Yes, HDR 10 |
| Price | $799 |
Since it supports both FreeSync and G-Sync, you are free to choose your preferred graphics cards, meaning the LG Ultragear 27GP950 will work problem-free with both AMD and Nvidia graphics cards. However, keep in mind that to use the full power of the 4K monitor, you'll need a very powerful graphics cards, such as an Nvidia RTX 3080 or an AMD RX 6800 XT.
LG Ultragear 27GP950: Image quality
Since the 4K gaming monitor is particularly appealing for graphically demanding games, the general image quality—color fidelity, brightness, and contrast—is of great significance. The LG Ultragear 27GP950 doesn't disappoint.
The color reproduction is neutral and natural due to the almost 100 percent coverage of the DCI-P3 color space. In addition, it dazzled with its high brightness and rich contrast.
The 27-inch monitor also impresses with superior performance in our gaming tests. Even with swift action and racing games, the LG Ultragear 27GP950 offers fluid and smooth playback with its responsive panel. We didn't see any errors in the tests, such as tearing, motion blur, or input lag.
In addition, various electronic features, such as black value boosting, flicker-free technology, Dynamic Action Sync, and a color-controllable LED light ring on the back, ensure gamers can get the most out of this monitor.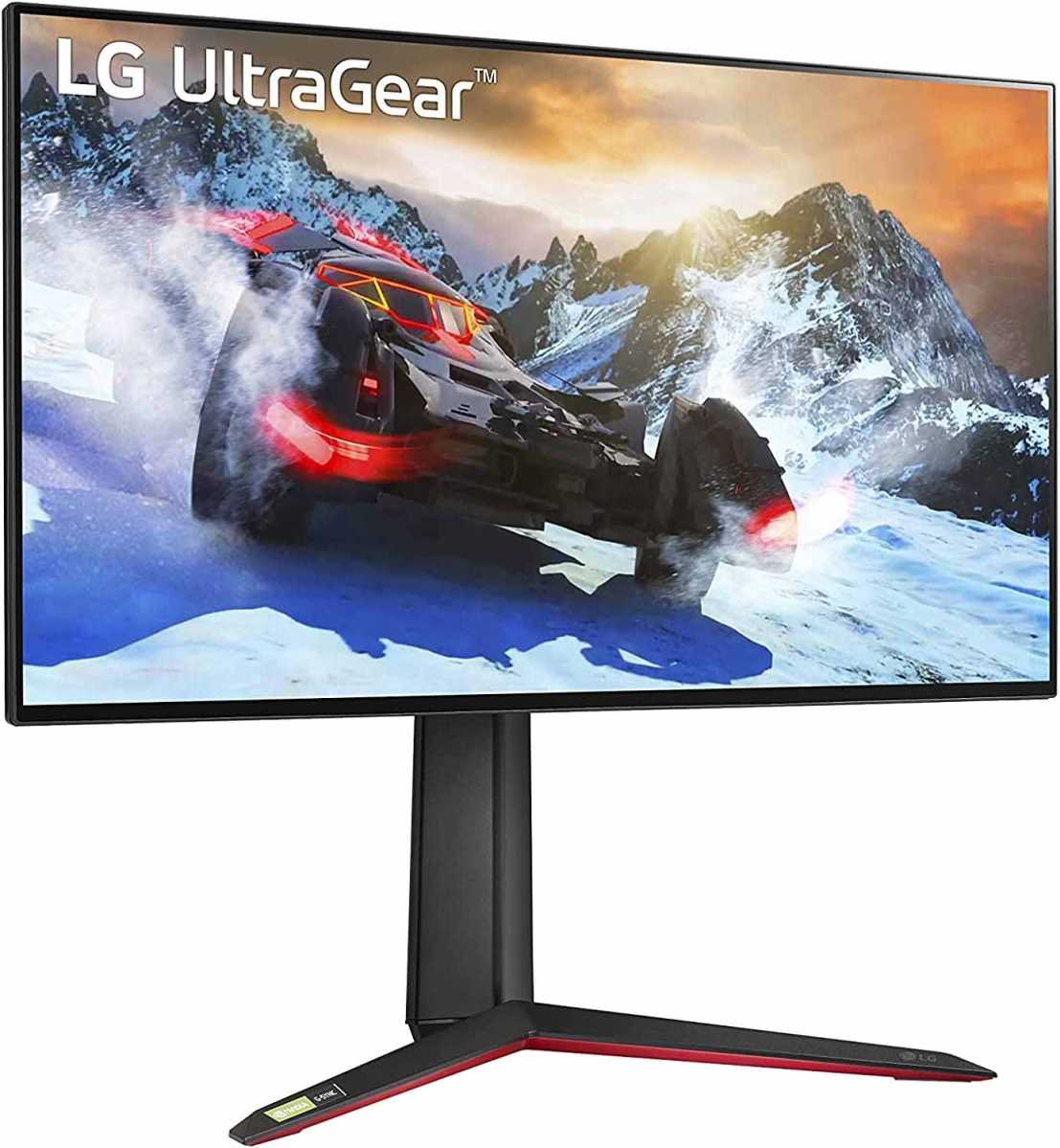 PC Welt
LG Ultragear 27GP950: Ports
The LG Ultragear 27GP950 has all of the standard ports for modern gaming monitors: a DisplayPort input (version 1.4), two HDMI (version 2.1) ,and USB 3.0 ports. All of the appropriate cables for these interface ports are included along with the monitor. What really stands out here are the HDMI 2.1 ports. It means that not only can you use this monitor for PC gaming, but you are able to connect it to all next-gen consoles such as the PS5 or the Xbox Series X and enjoy 4K gaming with those as well.
PC Welt
LG Ultragear 27GP950: Features and menu
The ergonomic adjustment options—rotating, tilting, and up to 4 inches of height adjustment—ensure that this monitor can be adapted to fit any location. We also found that the location of the ports were very convenient. Unlike most competitor models, the ports are not located in a niche on the lower back of the case that is difficult to reach. Instead, they are integrated directly next to the panel bracket so that they are easily accessible.
In addition to general settings, such as brightness and contrast, the on-screen menu offers various specific game features such as FPS, crosshairs, RTS, and two game presets. The five-way joystick, which controls the OSD, is conveniently located in the middle of the underside of the panel and allows the LG Ultragear 27GP950 to be configured very quickly and easily.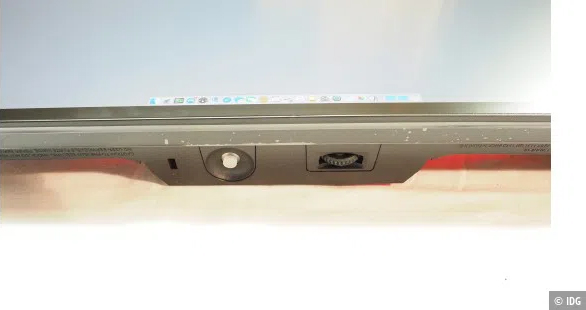 PC Welt
LG Ultragear 27GP950: Power consumption
During operation, the gaming monitor consumes almost 50 watts at maximum brightness, quite a lot, even for a 4K display. In standby mode, the power requirement drops to a low 0.6 watts, which is still higher than most of its competitors.
Final thoughts
The LG Ultragear 27GP950 monitor is a stand-out option for gaming monitors. Yes, you'll pay for the high purchase price and power consumption, but that's what's required when you only settle for the best gaming performance. The clear and stunning images, interfaces, and menu options really set the bar high for competitors. The addition of the HDMI 2.1 ports also makes it a great option for any gamers who wish to use it with next-gen consoles.
This review originally appeared on PC-Welt, PCWorld's German sister site.