At a glance
Expert's Rating
Pros
Excellent gaming performance
4K resolution
Dimmable mini-LED backlight
Ergonomic adjustment options
Cons
High power consumption
Extremely expensive
Our Verdict
The Asus ROG Swift PG32UQX is a top-class 4K gaming monitor. But with all of its high-end features, it should only be appealing to professional gamers or hardcore enthusiasts with big wallets—Asus is asking an astronomical $2,999 for the 32-inch display. In return, however, you get a screen that raises the bar, and takes gaming to a new level.
Price When Reviewed
$2,999
Best Prices Today: Asus ROG Swift PG32UQX
The Asus ROG Swift PG32UQX comes loaded with a ton of great features—it's the first gaming monitor equipped with a locally dimmable mini-LED backlight. You might have to empty your savings account to purchase it, but just think of all the crystal-clear, beautiful gaming you can play. There aren't many displays that can stand up to the specs on this monitor right now, but it's ultimately built for only the most hardcore of gamers. Still, if you're looking for the best, you may just have found it.
Note: This review is part of our ongoing roundup of the best gaming monitors. Go there to learn more about competing products, what to look for in a gaming monitor, and buying recommendations.
Asus ROG Swift PG32UQX: Specs and features
The Asus ROG Swift PG32UQX has a whole series of superlatives in terms of specs. It's the first gaming monitor with mini-LED lighting divided into 1,152 independently controllable zones. As a result, the gaming screen achieves a very demanding DisplayHDR 1400 certification, which requires an extremely high luminance of 1400 cd/m2. The Asus ROG Swift PG32UQX definitely delivers unsurpassed image quality. As a special service, Asus even calibrates each model for customers individually before delivery.
| | |
| --- | --- |
| Display size | 32-inch |
| Native resolution | 3840×2160 |
| Panel type | IPS / 16:9 |
| Refresh rate | 144Hz |
| Adaptive Sync | Compatible with NVIDIA's G-Sync and AMD FreeSync |
| Ports | 1 DisplayPort, 3 HDMI, 3 USB, 1 audio jack |
| Stand adjustment | Height, tilt, swivel |
| VESA mount | Yes, 100x100mm |
| Speakers | No |
| HDR | Yes, DisplayHDR 1400 |
| Price | $2,999 |
The 32-inch display with its resolution of 3840×2160 pixels synchronizes with the latest G-Sync Ultimate technology. While it is optimized to run at a maximum frame rate of 144Hz on Nvidia graphics cards, it also runs problem-free with AMD graphics cards. Other highlights of the IPS panel are the 98% and 160% coverage of the DCI-P3 and sRGB color range, as well as a small OLED display—called Livedash—in the lower panel frame. This nifty feature shows various system information, such as CPU temperature and GPU information.
Asus ROG Swift PG32UQX: Image quality
As already indicated, the Asus ROG Swift PG32UQX has outstanding image quality with high brightness and very strong contrast. Together with the neutral color reproduction, the UHD gaming monitor delivers an incredibly realistic and vivid picture. With image quality this impressive, gaming is taken to a whole other level of fun.
Assuming a powerful graphics card, such as Nvidia RTX 3080 or AMD RX 6800 XT, the Asus ROG Swift PG32UQX demonstrates impressive performance in responsive shooters and fast racing simulations, but it can't quite live up to the significantly faster WQHD and FHD models, which offer 240 to 360 Hertz refresh rate.
Image errors are not likely to be found in any game situation. On the contrary, the 32-inch display will almost always provide a buttery-smooth image. However, the UHD monitor shows its best gaming performance with HDR.
Here, the 32-inch monitor achieves a dynamic range and a quality that no other gaming monitor in our tests has yet achieved. Strategy and role-playing enthusiasts will also enjoy the Asus ROG Swift PG32UQX monitor with its incredible image quality and rich detail.
PC Welt
Asus ROG Swift PG32UQX: Features
The Asus ROG Swift PG32UQX comes with a DisplayPort input and three HDMI interfaces, with all four providing the maximum refresh rate of 144Hz under G-Sync. There are also three USB outputs, two of which are USB 3.1, and a headphone jack. Fortunately, all connection cables are included with the monitor.
Various LED light strips are also integrated, which can be adapted to the gameplay using Asus Aura technology. An interesting gimmick is the tripod mount integrated into the middle of the lower panel frame to mount a webcam for streaming.
PC Welt
The Asus ROG Swift PG32UQX has all the ergonomic adjustment options you need for long, fatigue-free gaming. The stable mount allows the screen to be rotated, tilted, and adjusted in height within a comfortable range. The on-screen menu offers seven preset gaming modes, such as racing, RTS, FPS, and environmental. There are also crosshair, timer, and stopwatch features.
In addition, blue-light reduction and flicker-free technology allow you to extend those gaming marathons without issue. The OSD is controlled via a new type of rotary wheel, which is placed in the middle under the screen and is easy to reach. It's just as comfortable to use as a 5-way joystick.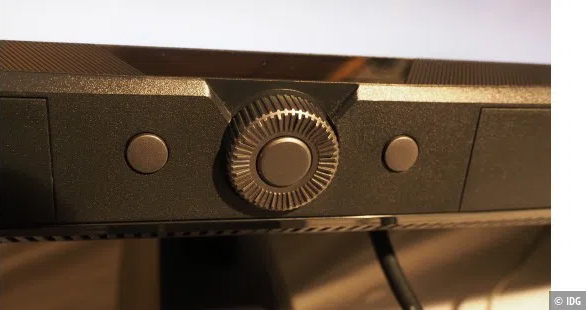 PC Welt
Asus ROG Swift PG32UQX: Power consumption
Due to the high maximum brightness, the 32-inch display consumes a ton of electricity at around 75 watts. If you reduce the brightness between 150 to 200 cd/m2, the energy requirement drops to a (still high) 50 to 60 watts. In standby mode, however, the value is a mere 0.3 watts.
Final thoughts
The Asus ROG Swift PG32UQX is ideal for hardcore gamers who want to push their experience to the max. You'll see a high level of detail, perfect for zooming in on your individual units in those real-time strategy games. And in racing and RPG games like GTA Online the colors are rich and look spectacular.
If you're partial to action games with fast motions, the 144Hz should do well for even the most demanding titles. The only drawback is that, between the sticker price and the power costs to keep it running at high performance, you'll pay a small fortune.
This review originally appeared on PC-Welt, PCWorld's German sister site.
Best Prices Today: Asus ROG Swift PG32UQX