2-in-1 laptops are awesome devices for business or creative professionals because they're portable and versatile. These devices either have detachable keyboards or a 360-degree hinge, allowing you to swing the screen all the way around, to use in tablet or tent mode. Some of them even feature touchscreens, which is perfect for doodling or marking up documents. If you're not sure where to begin your search, don't worry about it. We're here to help. The team at PCWorld assembled a list of the best 2-in-1 laptops available today. Not only are these picks great for professionals and students, but we also have hands-on experience with each one. Read on to learn more.
[Looking for something else? Check out our roundup of he best laptops for video editing]
Updated 12/08/2022 Check out our latest review of the Acer Chromebook Spin 513. The Spin 513 stands out with its excellent battery life and spacious display, despite lacking in the performance and audio departments. We also added a new pick to our recommendations, giving the new HP Spectre x360 14 the nod as the best 2-in-1 for business. Scroll down to learn more about it.
Surface Pro 8 – Best detachable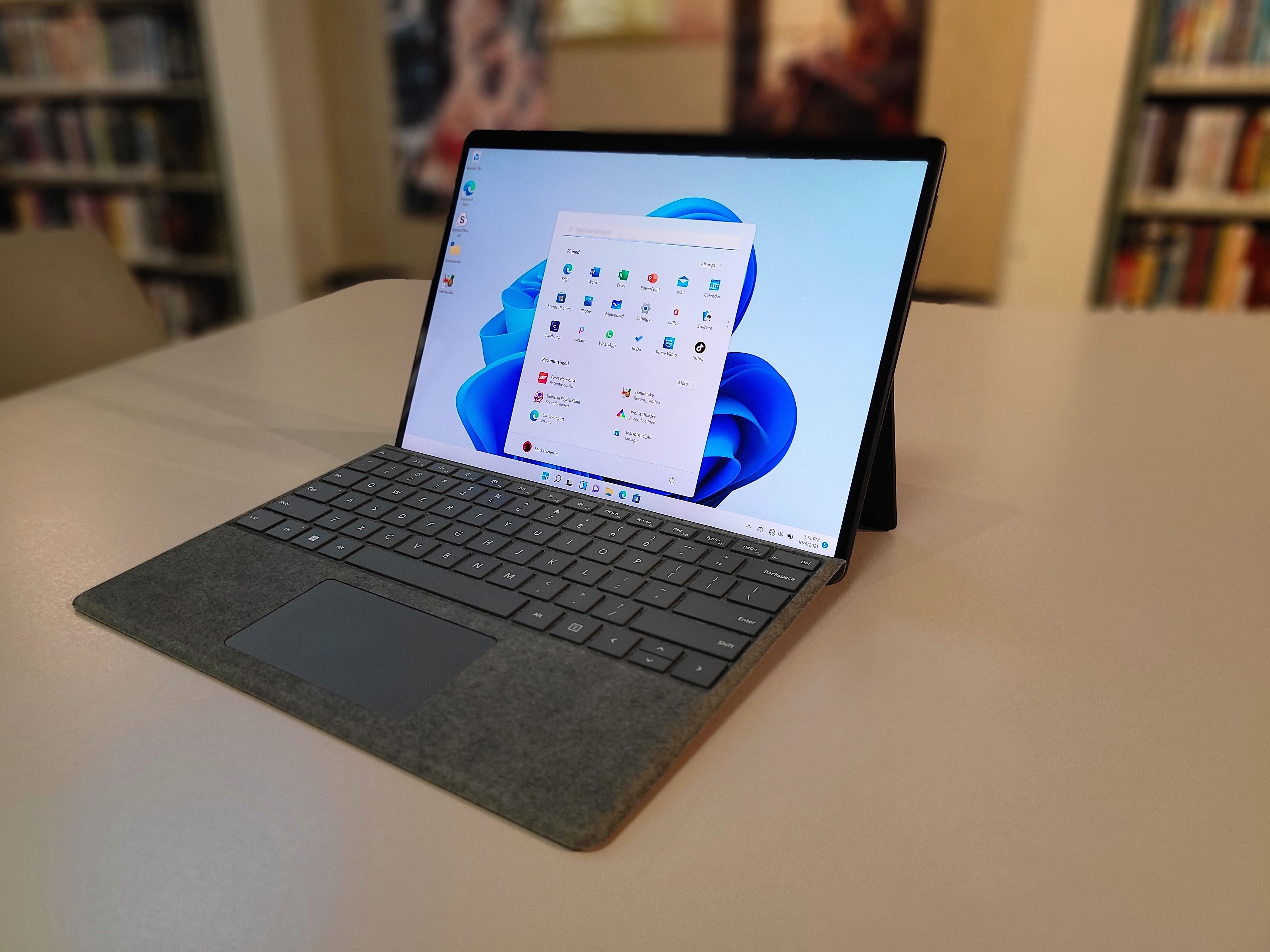 Pros
Superior screen: larger, higher-res, higher refresh rate
Inking is a pleasure
Good audio, with louder speakers
New optional Type Cover integrates pen well
Cons
Webcam might need some tweaking
Pen and keyboard still cost extra
Still pricey
Microsoft's Surface 8 is an excellent pick for students or business professionals. This device is truly featherlight, as it weighs a little under two pounds. It's a detachable 2-in-1, which means you can remove the keyboard from the tablet. Fortunately, Microsoft's Signature Keyboard "provides a lightweight, comfortable typing experience." That's not always the case with detachable 2-in-1's. That said, the keyboard and pen are additional purchases. The extra cost is a buzzkill, that's for sure. However, it's not all that surprising. Let's take a quick peek under the hood, shall we?
The Surface 8 features an Intel Core i7-1185G7 CPU, Iris Xe graphics, 16GB of RAM, and 256GB of removable SSD storage. That's powerful enough to handle productivity and general use tasks. For ports, it has two USB-C, one Surface Connect port, one Surface Type Cover port, and one 3.5mm jack. The 13-inch PixelSense Flow display is rather spacious when compared to previous iterations and has a resolution of 2880×1920, making for a rather bright and vivid picture.
This is an awesome value, especially given the gorgeous screen and competitive price.
Read our full
Review Surface Pro 8
How we tested
The PCWorld team puts each and every Windows laptop through a series of benchmarks that test processing and graphics performance, battery life, and so on. Basically, here at PCWorld we push the laptop to its limits and then compare it against similar machines we've tested. Chromebooks, on the other hand, go through a series of web-based tests due to the fact that they're Chrome OS-based machines. Below, you'll find a straightforward breakdown of each test and the reasons why we run them.
Windows laptops
PCMark 10: PCMark 10 is how we determine how well the laptop handles lighter tasks like web browsing, word processing, spreadsheets, and so on.
HandBrake: HandBrake is more intensive than PCMark 10. It basically measures how long a laptop's CPU takes to encode a beefy 30GB file.
Cinebench: Cinebench is a brief stress test of the CPU cores. It does this by rendering a 2D scene over a short period of time.
3DMark: 3DMark checks if 3D performance remains consistent over time by running graphic-intensive clips.
Video rundown test: To gauge battery life, we loop a 4K video using Windows 10's Movies & TV app until the laptop dies.
Chromebooks
CrXPRT 2: The CrXPRT 2 benchmark tests a Chromebook's battery life.
Speedometer 2.0: This test determines a Chromebook's web browser performance. It simulates this by adding, completing, and removing a to-do list.
Basemark Web 3.0: This benchmark gauges how well a Chromebook can handle web-based applications.
Kraken 1.1: Kraken 1.1 is a JavaScript performance benchmark.
Jetstream 2: Jetstream 2 is a combination of WebAssembly and JavaScript benchmarks. This is a way to gauge how well a Chromebook runs advanced workloads.
2-in-1 laptops Q&A
2-in-1 laptops are great devices for remote workers, creative professionals, and students. It combines the portability of a tablet with the functionality of a traditional clamshell. You can flip it around and use it like a tablet or prop it up like a painter's easel for sharing information. If you're not sure if a 2-in-1 is right for you, don't sweat it. In the section below, we'll go over a couple of key points like specifications and battery life.
Why should I chose a 2-in-1 over a traditional clamshell?
If portability is at the top of your priority list, then you may want to consider a 2-in-1 laptop, as they're generally compact and lightweight. They also tend to have excellent battery life due to the power-efficient components inside. 2-in-1 laptops often have 360-degree hinges, which allows you to swing the screen all the way around. This hinge allows you to prop it up like a tent for watching movies. Other 2-in-1's have detachable keyboards. This lets you ditch the keyboard and use the laptop like a handheld tablet.
How much power do I need?
We'd recommend a 12th-Gen Intel Core i5 processor, 8GB of RAM, and 512GB of SSD storage. That's enough power for working on spreadsheets, media editing, and so on. Need more oomph? we'd suggest springing for an 12-Gen Intel Core i7 processor, 16GB of RAM, and 1TB of SSD storage. Most of the laptops on the list above have integrated graphics, which is fine for some casual gaming but not for anything hardcore. A laptop with a discrete graphics card is better for gaming, but it will be heavier and more bulky as a result.
What about battery life?
If you travel a lot for work, a laptop with good battery life is absolutely vital. A laptop that lasts anywhere from 10 to 12 hours on a single charge is a good baseline. Fortunately, 2-in-1's are known for having phenomenal battery life, as they're comprised of power-efficient parts.