PCWorld Magazine
PCWorld offers buying advice through opinionated reviews and PCWorld Labs-based evaluations of new products, provides authoritative analysis of technology news and trends, and gives practical tips on everything from troubleshooting Windows to securing wireless networks. PCWorld is also the only magazine in its category that routinely pursues investigative and consumer-advocacy stories. Engaging, jargon-free writing and friendly design make the magazine as enjoyable as it is useful.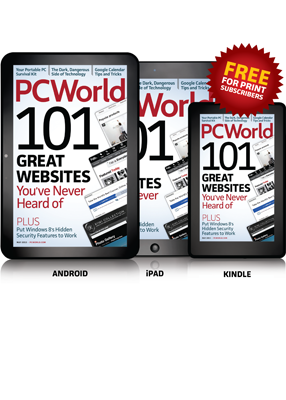 PCWorld Magazine
Currently available for FREE to existing print subscribers, the PCWorld Digital Magazine Enhanced Editions are the best way to experience PCWorld Magazine on your device of choice. Click on a button below for more information, or learn about more subscription options below.
About PCWorld Magazine Subscriptions:
In every issue of PCWorld you'll get advice and tips on staying secure in the Security Alert section, and news about the latest software bugs and fixes. The Consumer Watch section provides practical shopping and buying advice. The Here's How tips provide hands-on, step-by-step guides to upgrading and troubleshooting your gear. There's one clear choice when it comes to reading about the latest tech products and innovations: PCWorld magazine.
PCWorld Enhanced Editions:
The Enhanced Editions were created to bring a new digital experience to users, with customized layouts, optimized images, features, and multimedia content!
Enhanced Edition Features:
Optimized views for the HD displays
Integrated Video Clips, Sound Bites, and Multimedia
High-Resolution Images
Device-Intuitive Layouts - fully customized for each individual device
Swipe and slide through digitally remastered articles
Fully Interactive Table of Contents
URL and Find-Product Code Supported
Links to webpages, app and product reviews
Back issues stored on your device
Bookmark Capabilities
Share Content via Twitter and Email


Enhanced Android Edition - Available for all Android tablets (OS 3.0+)
Enhanced iPad Edition - Available for all iPads (iOS 5.0+)
Enhanced Kindle Edition - Available for all Kindle Fire devices
PCWorld PDF Editions:
The PDF Editions are a convenient way to read PCWorld on a variety of devices. The PDF Edition is an exact digital replica of the print version, but it offers you many additional advantages.
PDF Edition Features:
Pinch and zoom capabiltiies
Timesaving tools that quickly take you right to the articles, features, and sections that are most important to you
Quick hot links for easy navigation to content on the Web, advertisers' sites and other articles throughout the issue
Convenient features that allow you to search text, make highlights and annotations on articles
Click here for more information, or click on a version below to purchase a subscription. Monthly recurring subscriptions for $1.99, and single issues for $6.99, are available for all PDF Editions.