Superguides
Staying true to our goal of offering you the most comprehensive coverage of the most innovative and exciting new products, we introduce the PCWorld Superguide series. These books are produced by the staff ofPCWorldand are packed with practical how-tos, in-depth features, tips and tricks, and more.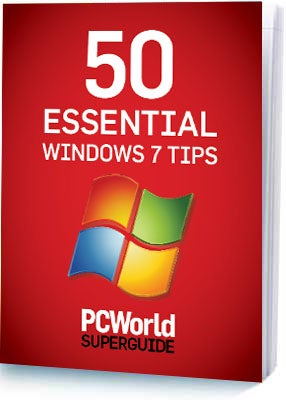 Superguide
50 Essential Windows 7 Tips
Master Windows 7 with our curated list of tips, tricks, and secret utilities. Learn how to save time closing your apps, stream media to other PCs, download more themes, take control of Windows Update, and many more useful tasks.
| | |
| --- | --- |
| Publication Date | August 27, 2012 |
| Page Count | 35 |
| Language | English |
iPad Starter Guide, 3rd Edition
| | |
| --- | --- |
| Publication Date | May 13 2011 |
| Page Count | 194 |
| Language | English |
| ISBN/EAN13 | 0984615830 / 9780984615834 |
| Binding Type | US Trade Paper |
| Trim Size | 6.14" x 9.21" |
| Color | Full Color with Bleed |
| Related Categories | Photography / Reference |
Nobody spends more time with Apple's computers and software than the writers and editors at Macworld, the world's foremost Mac authority in print and on the Web.
Every year Macworld publishes huge amounts of photo-related advice including tips for shooting, managing, editing, and printing digital photos. Now this wealth of information is available all in one place, updated for iPhoto '11 and organized in an easy-to-follow guide.
The Digital Photography Superguide is bursting with the latest insight and advice for every aspect of digital photography on the Mac. If you're shopping for a new camera, you'll find useful, up-to-date guidelines for picking the right one for your needs. Once you have a camera, this book will help you take better pictures with shooting tips and tricks from professional photographers.
As your photo collection grows, use this book to stay organized and to help bring out the best in your images with iPhoto '11, Apple's excellent photo manager and editor. We'll show you how to take advantage of the newest features, including face recognition and GPS support. We've also got tips to help you print your pictures yourself, scan old negatives and slides, get the best results from an online photo service, and have fun with Web galleries and more. You'll also learn the best ways to back up your photos so you don't ever lose precious memories. If you love seeing what your digital camera and Mac can do together, this is the book for you.
Want to try the book before you buy? Click here to download a 34-page sample! (Control-click on the link and download it to your Mac for viewing in Preview or Adobe/Acrobat Reader.)
About This Superguide:
The 50 essential tips youll find in this Superguide will help you work faster and eliminate little daily annoyances. Frustrated by Windows tendency to resize Windows without asking? The guide tells you how to disable that arrangement. Having trouble with your Internet connection? Find out about little-known utilities that keep tabs on your connection.
PCWorlds Superguide will also tell you how to add fly-out menus to the Start Menu, remove shovelware, stream media to other PCs, or whip up a system repair disc.
If you'd like to read the guide on your PC, consider a complete 35-page full-color PDF in a convenient download for $4.99. Or cover all your bases and have a copy of the Superguide in every version for each of your devices (.ePUB, .PDF, and .MOBI) with our $5.99 ebook and PDF bundle.
You can also read our 50 Essential Windows 7 Tips Superguide on a Kindle or Nook. It is available in the Kindle Store and Nook Bookstore for $4.99. We also have a copy available onApple's iBookstore for $4.99.
For more practical how-tos, in-depth features, tips and tricks, and more about other topics, be sure to check out our other Superguides, including Android Ice Cream Sandwich ,Speed Up Everything, Windows 7, and Android Honeycomb.
Buy now: Available as a downloadable PDF, on the iBookstore, via the Kindle or Nook for $4.99, or in a downloadable ebook bundle for $5.99.
Want to try the book before you buy? Click here to download a sample! (Control-click on the link and download it to your computer for viewing in Preview or Adobe/Acrobat Reader.)