Superguides
Staying true to our goal of offering you the most comprehensive coverage of the most innovative and exciting new products, we introduce the PCWorld Superguide series. These books are produced by the staff ofPCWorldand are packed with practical how-tos, in-depth features, tips and tricks, and more.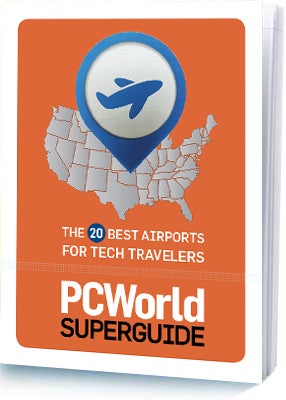 Superguide
20 Best Airports for Tech Travelers
PCWorld sent researchers to the 40 busiest airports in the U.S. to determine the ones that are the best for tech-toting travelers.
| | |
| --- | --- |
| Publication Date | April 9, 2012 |
| Page Count | 18 |
| Language | English |
iPad Starter Guide, 3rd Edition
| | |
| --- | --- |
| Publication Date | May 13 2011 |
| Page Count | 194 |
| Language | English |
| ISBN/EAN13 | 0984615830 / 9780984615834 |
| Binding Type | US Trade Paper |
| Trim Size | 6.14" x 9.21" |
| Color | Full Color with Bleed |
| Related Categories | Photography / Reference |
Nobody spends more time with Apple's computers and software than the writers and editors at Macworld, the world's foremost Mac authority in print and on the Web.
Every year Macworld publishes huge amounts of photo-related advice including tips for shooting, managing, editing, and printing digital photos. Now this wealth of information is available all in one place, updated for iPhoto '11 and organized in an easy-to-follow guide.
The Digital Photography Superguide is bursting with the latest insight and advice for every aspect of digital photography on the Mac. If you're shopping for a new camera, you'll find useful, up-to-date guidelines for picking the right one for your needs. Once you have a camera, this book will help you take better pictures with shooting tips and tricks from professional photographers.
As your photo collection grows, use this book to stay organized and to help bring out the best in your images with iPhoto '11, Apple's excellent photo manager and editor. We'll show you how to take advantage of the newest features, including face recognition and GPS support. We've also got tips to help you print your pictures yourself, scan old negatives and slides, get the best results from an online photo service, and have fun with Web galleries and more. You'll also learn the best ways to back up your photos so you don't ever lose precious memories. If you love seeing what your digital camera and Mac can do together, this is the book for you.
Want to try the book before you buy? Click here to download a 34-page sample! (Control-click on the link and download it to your Mac for viewing in Preview or Adobe/Acrobat Reader.)
About This Superguide:
Walking past laptop-toting digital nomads who huddle around the outlets lining the concourse, you arrive at your gate with 30 minutes to spare. You have a 6-hour flight in front of you, and a laptop and a smartphone that need a full charge to keep you working and listening to music throughout the flight. You stalk the gate area. The two available outlets on the payphone are taken. No outlets on the walls. The remaining minutes before departure tick down. A baby is crying. (Please, please, please, you think, don't seat me next to the baby …). "Final call for boarding." Your laptop has an hour of life left, and so does your phone. When both are dead, your noise-canceling headphones will be useless. You board and approach your seat. You're in 16B. The baby, in 16C, is already crying …
Another day in the friendly skies. It's happened before, and it will happen again. But it doesn't have to be that way. Airports across the country are installing more outlets and improving their Wi-Fi signals--but some are moving much faster than others. And fortunately, these days you have some measure of control: On many trips you have a choice of airports, terminals, and airlines. If you only knew what tech amenities were waiting for you at the airport, you might think twice before choosing an airline that flies out of gates like the one described above.
PCWorld sent researchers all over the country to canvass the gates of the 40 busiest airports in the United States and to identify the tech winners and losers. In all our airport auditors visited 3300 gates from coast to coast; they counted more than 17,000 electrical outlets, 5000 USB ports, and 1350 charging stations; and they performed hundreds of tests of airport Wi-Fi and cellular broadband service.
The charts on the following pages illustrate how each airport performed in these areas, with rankings of the top airports for overall tech amenities, the best terminals, and the best airports for Wi-Fi and cellular service. We also rated the major domestic airlines on their efforts to accommodate mobile, connected travelers — at the gates, in the planes, and online.
For more practical how-tos, in-depth features, tips and tricks, and more about other topics, be sure to check out our other Superguides, including Android Ice Cream Sandwich, Speed Up Everything,Windows 7, and Android Honeycomb.